Fieldfare Associates is proud to be part of SRUC and ideally placed for your professional development and industry training needs.
We maintain high standards in everything we do and are committed to making a difference to you and your business.

We offer in-house and public courses with both online and face to face options.  We're also able to create content bespoke to your needs so we look forward to hearing from you soon regarding your requirements.
Our courses include (but are not limited to):
We are a SOMA Approved Trainer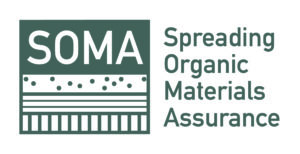 Our Landspreading for Operators training is currently the only SOMA Accredited landspreading course which qualifies as part of the SOMA membership requirements.
We Provide CIWM Accredit Courses
Our two landspreading courses are CIWM (formerly WAMITAB) Accredit courses.  Delegates receive a CIWM certificate of attendance upon the completion of the courses.